Posted: Nov 17, 2015 12:01 PM CST Updated: Nov 17, 2015 6:42 PM CST
By Jordan Maddox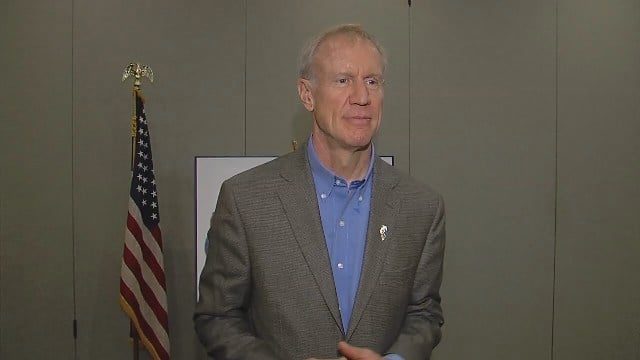 Illinois -
WSIL-- Illinois Republican Gov. Bruce Rauner  has rescheduled a meeting with the four legislative leaders to discuss the ongoing budget impasse. The meeting was scheduled for Wednesday, Nov. 18, but will now take place on Dec. 1.
Rauner spokeswoman Catherine Kelly said the meeting has been rescheduled for Democratic House Speaker Michael Madigan.
"Out of respect for the Speaker's family obligations and to help facilitate the attendance of all four legislative leaders, we are rescheduling the meeting ... Our thoughts and prayers are with the Speaker and his family at this time," Kelly said through email.
The meeting will take place in the governor's office, where he and each leader will have a chance to speak for the first hour which will be live streamed to media outlets throughout the state.
In a press release, the governor's office said they will each have ten minutes to speak about whichever issue they feel most passionately about. One issue the governor plans to speak about is term limits.
The Republican Party has been strongly pushing the issue since January as a way to take down Madigan. The speaker has been a part of the legislature since 1971.
After each person has been given an opportunity to speak, a closed meeting will begin.
Illinois will be in its sixth month without a state budget by the time of the leaders' meeting.
Illinois leaders will meet in December - WSIL-TV 3 Southern Illinois