America and the Foxconn Dream
By
Tim Culpan
July 27, 2017, 12:35 AM CDT
This package could buy an iPhone for everybody in the state.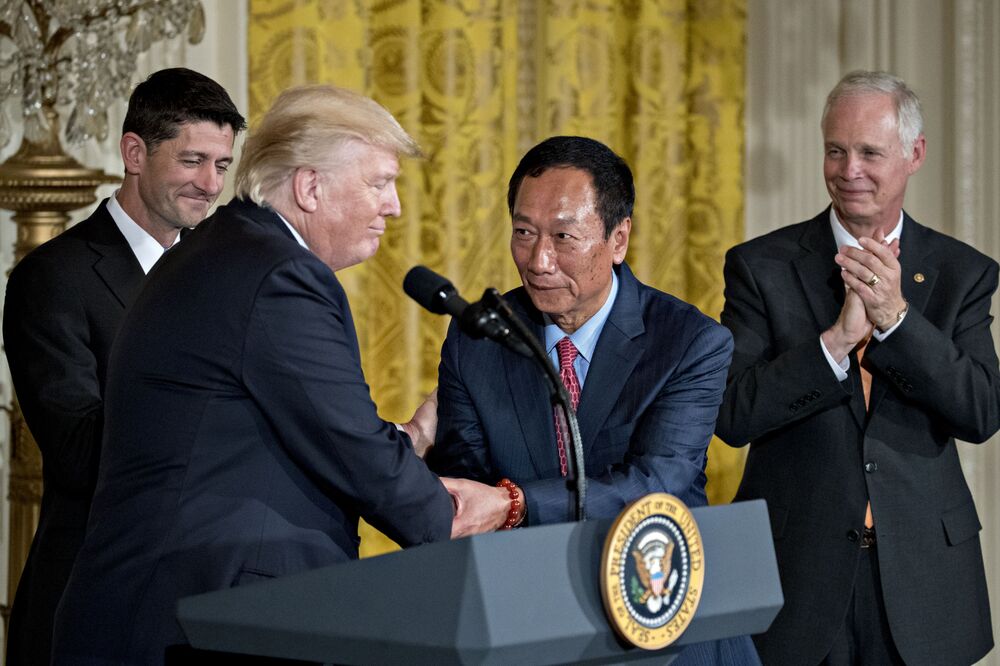 Andrew Harrer/Bloomberg
Wisconsin is about to shell out as much as $3 billion for the privilege of luring Foxconn Technology Group. At $519 per citizen, it would have been cheaper to buy an iPhone for every man, woman and child in the midwestern state. 1
Let's be clear: The big winner isn't the taxpayer. It's Foxconn and its billionaire chairman Terry Gou. As I predicted several times, Foxconn would only come to the U.S. if and when his demands were met.
Meet them is exactly what Wisconsin did, with an offering of tax credits, training grants and infrastructure improvements. In return, Foxconn said it will invest $10 billion and create 3,000 jobs.
Let's take a look at those figures: Wisconsin is paying as much as $1 million per job, which will carry an average salary of $54,000. The state's economic development corporation is selling the project to taxpayers with a claim that it will create 10,000 construction jobs for building the facility and another 6,000 indirect positions. It's expecting $3.3 million of investment per employee from the Taiwanese company.
Politicians, lobbyists and Foxconn can make the figures work by being generous with the facts. For example, if every one of those jobs came to fruition, they can claim 29,000 positions for $3 billion, or $103,000 per job. But that's not going to happen.
Foxconn has factories in China and another dozen countries globally, yet that stated $10 billion investment is more than the group's publicly traded flagship -- Hon Hai Precision Industry Co. -- has devoted to capital expenditure over the past five years combined.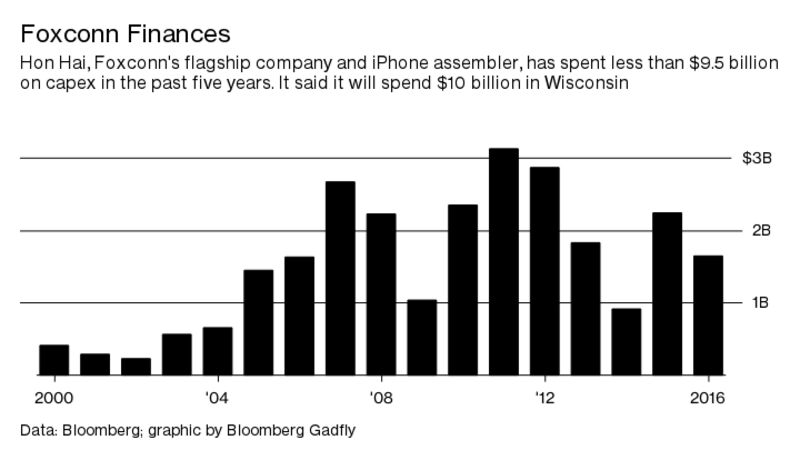 There is potential for the payroll to climb to 13,000 in the future -- a figure crucial to Wisconsin justifying the expense -- but I wouldn't bet your 401(k) on it. That's because if Gou really does dish out $10 billion on this facility, the only way to make it viable is by keeping staffing low and leaning on automation to boost productivity. This LCD factory will be either labor intensive or highly automated. It can't be both.
Foxconn's plans for U.S. manufacturing take cues from Tesla Inc.'s Fremont, California facility, a highly automated factory that Gou has visited more than once. There, Elon Musk is reported to have more than 160 specialist robots to supplement the labor force. Expect Foxconn to be even more automated, because it will be making displays -- a standardized product -- whereas Tesla custom-builds its vehicles with a lot more human intervention.
It's important to keep in mind that investment pledges dished up in press releases don't always equate to the final reality.
Three years ago, Gou signed a deal with the government of Jakarta, Indonesia's capital and its biggest city, to invest $1 billion and employ local workers to make electronics. That never happened. Neither did a $30 million high-tech factory in Pennyslvania that was announced a year earlier.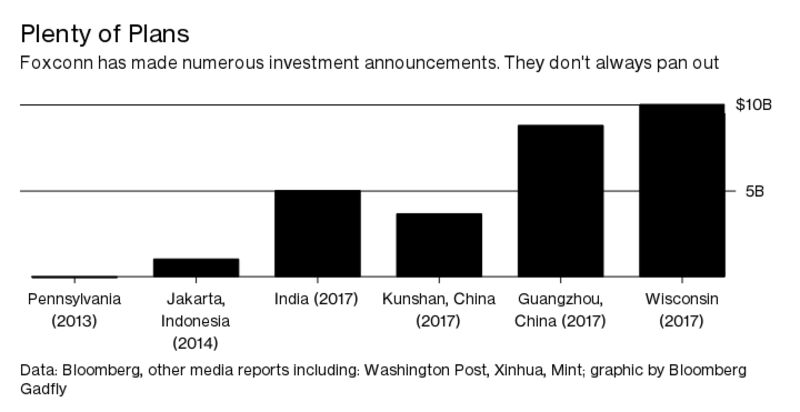 Just this past year, Foxconn is reported to have pledged investments of $5 billion in India; $3.65 billion in Kunshan, China; and $8.8 billion in Guangzhou. It's too early to know if those sums will ever be spent, but including Wisconsin, the tally now stands at $27.5 billion of commitments. That's more than Hon Hai has spent in the last 23 years.
Terry Gou didn't get where he is today by blithely spending money on huge factories. Instead, he's learned to entice leaders into thinking big, and then letting them pay.
Wisconsin shows that Foxconn isn't building the American Dream -- America is building the Foxconn machine.
This column does not necessarily reflect the opinion of Bloomberg LP and its owners.
Above is from: https://www.bloomberg.com/news/articles/2017-07-27/america-and-the-foxconn-dream